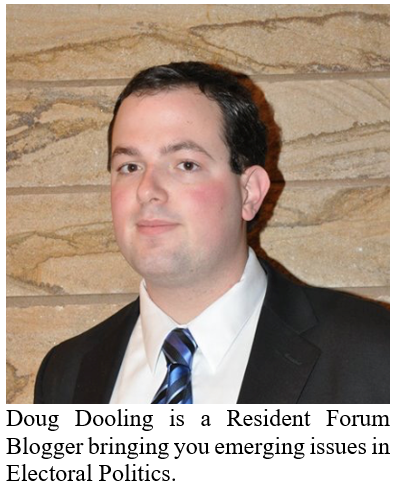 By Doug Dooling
Published: 4/1/2017
[The President] shall nominate, and by and with the Advice and Consent of the Senate, shall appoint … Judges of the supreme Court – U.S. Const. Art II, § 2
When Donald Trump nominated Neil Gorsuch to the Supreme Court, the President continued what has been a recent standard in America's judicial politics.  Gorsuch is a judge on the Tenth Circuit Court of Appeals, and for the past fifty years, twenty-one of the twenty-seven Supreme Court nominees have been sitting federal judges*.  Furthermore, ever since 1967, when Lyndon Johnson nominated Thurgood Marshall to the Court, none of the nominees to the Supreme Court had served in Congress and only Sandra Day O'Connor served in a state legislature.  Non-politician lawyers, especially federal appellate judges, have been a favorite among recent presidential administrations.  Akhil Amar, a legal scholar at Columbia University, writes that there are two main reasons why a president would choose a federal judge.  If the President promotes an appellate judge to the Supreme Court and a district judge to the appellate level, the president can reshape the judicial branch with three judicial appointments.  Furthermore, a federal judge might have more knowledge of the intricacies of the Supreme Court than any other profession.
U.S. senators have the power to confirm or deny the president's selections for Supreme Court justices.  Because of the White House's avoidance of appointing politicians to the bench, there is no recent history of senators debating over whether to confirm one of their colleagues to the Supreme Court.  Among 112 justices, Presidents have appointed fourteen senators to the Court, half of whom were appointed during their Senate tenures**.  Franklin Roosevelt named two sitting senators, Hugo Black and James Byrnes, to the Court.  Harry Truman added another sitting senator, Harold Burton.  Hugo Black, who resigned in 1971, was the last Senator-Justice to serve on the Supreme Court.  Black never held a statewide or federal legal position.  He was a U.S. Senator from Alabama when Franklin Roosevelt nominated him.  Sherman Minton, meanwhile, was the last senator to be appointed to the Court.  After failing to secure reelection to the Senate from Indiana, Minton became a judge on the 7th Circuit.  Truman nominated him to the Court in 1949.  When the Court decided Brown v. Board of Education, only Minton had experience as a federal judge.
Why should it matter that only federal judges are appointed to the Supreme Court?  Amar argues "the Court would benefit from having at least one or two justices who know how Washington works at the highest levels, and who have seen up close how presidents actually think, how senators truly spend their days, how bills in fact move through Congress, and so on[.]"  "Portfolio diversification", Amar writes, would allow unique perspectives to enter the Court.  Former legislators will know, as the adage goes, how the sausage is made.  In Clinton v. City of New York, Justice Stevens, who served as associate counsel to the Monopoly Power Subcommittee of the House of Representatives' Judiciary Committee, determined that the line-item veto was unconstitutional.  Stevens should have brought up his personal experience to explain how he reached this conclusion, but he relied on letters from George Washington, an autobiography from William Howard Taft, and Blackstone to decipher Congressional intent.  Clinton v. City of New York, 524 U.S. 417, 440 n.30 (1998).  When striking down the legislative veto, Chief Justice Burger wrote:
[T]he Framers were acutely conscious that the bicameral requirement and the Presentment Clauses would serve essential constitutional functions. The President's participation in the legislative process was to protect the Executive Branch from Congress and to protect the whole people from improvident laws.
INS v. Chadha, 462 U.S. 919, 951 (1983).  Like Stevens, Burger also relied on history as opposed to legislative experience.
What would a politician's appointment to the Court look like? A senator's nomination would be much different than a president nominating a congressman or governor because the senator's appointment would depend upon the decision of his or her peers.  We have recently seen presidents appoint senators to their Cabinets.  President Obama plucked his Secretaries of State, Hillary Clinton and John Kerry, from the Senate.  President Trump picked Alabama senator Jeff Sessions as his Attorney General.  His nomination became unusually heated when the Republican majority invoked Rule XIX of the Senate to silence Elizabeth Warren's criticism of Sessions.  Rule XIX states "no Senator in debate shall, directly or indirectly, by any form of words impute to another Senator or to other Senators any conduct or motive unworthy or unbecoming a Senator."  If a president did nominate a senator to the Court, the nomination would have to overcome a skeptical public.  Justice Sotomayor recently lamented that the public sees judges as political.  None of the sitting Justices nor Neil Gorsuch have had elected experience, so the public's perception of the Court could worsen if the president nominated a senator as a justice.
Americans probably will not see a senator, or any politician, rise to the Supreme Court soon.  In the 2016 election, neither Donald Trump nor Hillary Clinton seriously proposed naming a senator to fill the vacancy left with the passing of Antonin Scalia.  In May, Donald Trump first announced eleven names, all judges, on his shortlist to replace Antonin Scalia.  He then added ten additional names, one of whom, Mike Lee, is a senator from Utah.  Lee, a friend of Trump's primary challenger Ted Cruz, refused to endorse Trump and Trump's inclusion of Lee may have been an olive branch.  Hillary Clinton supposedly had a list of eleven names; sitting senators Corey Booker and Amy Klobuchar were at the bottom of her list.
*Sandra Day O'Connor was a state-level appellate judge in Arizona. Elena Kagan, as U.S. Solicitor General, had an office in the Supreme Court.  Harriet Miers, who was White House Counsel, ultimately had her nomination withdrawn after bipartisan backlash.  Thurgood Marshall, who had been a judge in the Second Circuit, was Solicitor General upon appointment.  Lewis Powell had served as ABA president.  William Rehnquist was an attorney in the Justice Department.
** David Davis was elected to the Senate after serving fifteen years on the Court, and was excluded from this list.

Print